For any website, podcast, print or other outlet that claims to have a difficult time finding women to talk knowledgeably and expertly about sports, Lindsay Gibbs has some advice: Try harder.
The former writer for Think Progress is the founder of the Power Plays newsletter and co-founder of the Burn It All Down podcast, which exclusively has had women and non-binary guests talking about sports for three years now.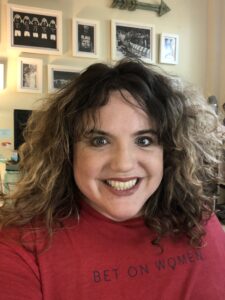 "We haven't had any men on the show so far," she says. "We've never once said we have a ban on men, but we decided we wanted to be purposeful (in finding female and non-binary guests). When looking at topics, if we want an NFL expert to come in or an athlete, we look for women to come in and talk about it. We haven't had a problem. Sometimes we have to dig a little bit deeper, but … I'm amazed how a little bit of awareness and effort (can) open your world."
She was a sports reporter at Think Progress, but her task was to write about sports in relation to other broader topics — racism, sexism, homophobia, the environment, politics, etc.
"That's what I did full time for four years," she says. "Through it all I've gotten more and more into covering women's sports as a whole, and that's what I focus on now. Every single story the other reporters were covering … there's a sports angle to every single topic. Sports doesn't exist in its own bubble."
Gibbs was never told to "stick to sports" and was encouraged to do just the opposite. "There was never any pretending that sports was separate from everything."
Lifelong sports fan Lindsay Gibbs is the co-founder of the Burn It All Down podcast and founder of the Power Plays newsletter. She talks with It's All Journalism host Michael O'Connell about the importance of including women and non-binary people in sports coverage and why sports is not separate from any other news topic.