Every revolutionary act begins with a clear vision of how the world could be a better place.
The vision behind Free Press's Media 2070 project is a world in which the stories and priorities of importance to members of the Black community are told and prioritized, ideally shared by Black journalists.
Collette Watson is senior vice president and co-creator of Free Press, a media organization founded several years ago with the goal of "uplifting a vision of media that would better serve democracy," she explains. "It's often phrased as giving people a voice in the decisions that shape our media and our media system. Many of us do not have an awareness of how media functions as a system, the ways it's structured through policy and our ability to impact that, to resist and to really influence the way media comes together and the impact it has on our communities."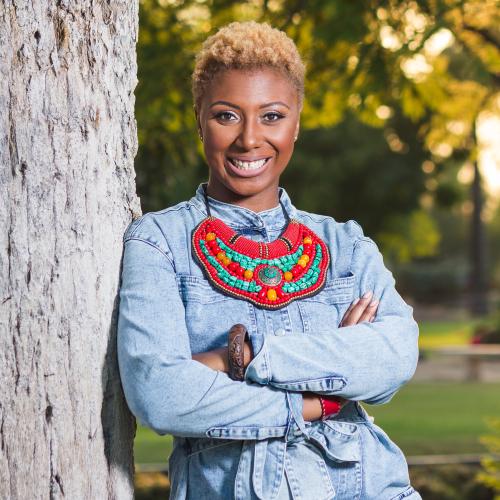 Free Press started as a grassroots community organizing group, but wants to help deliver better policy while changing media because a more representative media is "foundational to a more just society," Watson says.
In 2020, many newspapers around the country began to look inward, reviewing their archives and, in some cases, apologizing for the failures of their previous leadership for covering up or downplaying atrocities in their Black neighborhoods, especially in places like Tulsa and Wilmington. People were taking a critical look at the media and it allowed for conversations to take place in which system oppression was brought to light in a different way.
Unfortunately, as some media partnerships were built between Free Press members and local news organizations, important media contacts were lost as the local newspaper was sold and some reporters lost their jobs or took buyouts.
In 2020, Diamond Hardiman, now with Free Press, was doing similar work in Colorado, "having conversations in Black communities about the coverage that was happening on the (Black Lives Matter) protests and what kind of language was being used on the people involved in the uprisings and using that as a way to gauge the relationship between Black folks and the media," she says. "We started thinking more about that relationship and the history that goes into why it is such a ruptured connection between media and journalism and Black communities. A lot of that also feeds into Media 2070 work, thinking about how history has played a role in getting us this far and how those practices filter into what kind of stories are told and what kind of impacts it has in the community. We spent time working with people on the ground, materializing those impacts, asking how it impacted different parts of their lives and doing the work to dream what it could look like if we changed these systems and what would be possible if we were able to start building bridges of repair."
It's all part of the organization's vision for the future, clearly outlined and established in Media 2070.
"How we describe it is an expansive presentation of examples of media harm," with the goal of disrupting what they believe is a 50-year cycle in which Black communities and their stories are suppressed or underplayed in the media, as well as misrepresented. This goes back to the Chicago race riots of 1920, hitting again in the civil unrest that led to additional riots in Detroit, LA and other cities in 1970, and most recently manifested following the death of George Floyd in 2020.
"We want to get off that 50-year cycle," Wilson says. "We want to interrupt that cycle and begin to envision a world that would exist 50 years from now, where the media system has been transformed and reimagined, where power and resources have been redistributed in a process of reparations that result in Black people having the resources and power and control to really tenderly steward our own stories, from ideation through production and distribution."
Collette Watson and Diamond Hardiman of the Free Press discuss how Media 2070 seeks to empower Black journalists and others from marginalized communities to create and control the distribution of their own stories.