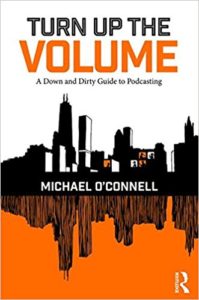 Good things seem to keep happening thanks to this podcast.
In May 2016, I announced that I had signed a contract with Routeledge – Taylor & Francis Group to write a textbook about podcasting. After months of hard work and many interviews with some very smart podcasters, I turned in the manuscript last October. The book, Turn Up the Volume — A Down and Dirty Guide to Podcasting, is set to be released this July.
I enjoyed the project a great deal and can't wait for everyone to see the finished product.
So, what's next?
Of course, I'll continue to work on the weekly It's All Journalism podcast with fellow producers Nicole Ogrysko and Amber Healy. It's still a lot of fun to do.