By Megan Cloherty
Approaching an election, every journalist and budding journalist knows where they want to be — covering the race. So for students, unable to secure an assignment from a news organization on Election Day, this project was perfect.
RebelMouse, the relatively new personalized social media aggregator, teamed up with 24 journalism schools across the country (including my alma mater, Mizzou) to compile what turned into comprehensive election coverage in real time.
Called the #jelection project, the idea is pretty great. Cover the election all in one place employing the skills of journalists who are passionate about the subject and willing to work for free. Mix and present on a constantly-updating platform.

Participating schools:
Arizona State U;
Auburn;
Boise State;
Boston U;
Central Connecticut State;
Colorado State;
Drury;
Hofstra;
Howard;
Indiana;
Lehigh;
Linfield;
Ohio U;
Pacific Lutheran;
Texas Christian U;
UMass, Amherst
U of Denver;
University of Memphis;
U of Minnesota, Duluth;
U of Missouri, Kansas;
U of Nevada, Reno;
U. of Oregon;
U of Tennessee;
U. of Wisconsin:
What resulted was a mix of videos, tweets, photos and articles all presented in RebelMouse's Pintrest-esque design. While it had a tendency to look a bit cluttered at times with complex images and text, it got the message across: We've got this covered and we have a lot to show you.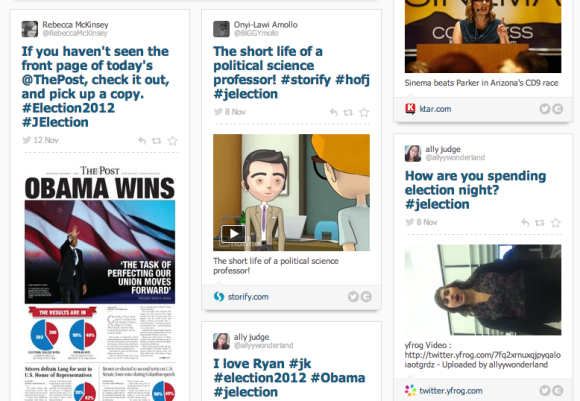 No, it didn't compete NPR's incredible digital coverage of the election, but #jelection delivered coverage of Election Day through the voices of young professionals, which you'd be hard-pressed to find rivaled anywhere on Election Day.
The partnership between the pioneering, social site and the green, eager journalists makes all the sense in the world. The motto of the project was "Better to be second and right than first and wrong." Check out the #jelection project here.