I recently received the following letter from Aðalheiður Ámundadóttir, a journalist in Iceland.
"Hi there, and thanks so much for your awesome podcast!

"I've been searching your archives for an episode on apps and tools to help organize. I've no idea if you have done an episode on this but if you do, could you be so kind to send me a link?
"I'm a reporter for the biggest newspaper in Iceland. The paper is printed six days a week so I'm working on a new story pretty much every single day. I cover crimes, police and the criminal justice system but I also jump in and out of news on politics. I get enormous number of tips from readers, lawyers, polish and other sources and have to keep track of all courts in the country and other public records.
"And then I have stories that need more in depth research, that I'm working on alongside my day-to-day stories. My most comprehensive on the side research is on a criminal case from the 70', a case that has been in and out of news in Iceland for decades (on the disappearance of two men in 1974 and six youngsters convicted for killing them, without their bodies ever being found and no evidence supporting their conviction. The case was reopened last year and all but one acquitted but the case remains very interesting to many of my readers and I'm still researching many aspects of it.

"Anyway, I constantly find my research in a complete mess. I use a number of tools to help me organize and keep track of things but I'm having difficulties to use them interactively and keep all of them up to date. Perhaps I should throw some of them out, as there might be overlap in their usage. My messy ways of organizing both apply to my day to day stories and my long-term research and I jump between having a complicated system of things and keeping things simple.

"Have you ever done an episode for journalists on organizing and keeping better track of things?

"This is what I'm using.

Feedly – for rss subscriptions
Trello – for story ideas and reminders of stories (I could use trello in much more in depth, cause I really like the tool)
Evernote – transcripts of my phone calls, collection of documents and other stuff on stories. – I like the tagging option here but my Evernote is always a complete mess for some reason. I could also use this tool a lot better and find myself using both Evernote and trello for the same stuff and confuse their purpose,
Calendar – I'd really like to be able to use my calendar in an interactive way with all those tools.
"Thanks again for your great podcast!
"Alla"
We have done an occasional podcast about journalism resources, but not for a very long time. The ones we have done, though, have not focused in great detail on the programs, apps or tools that journalists use every day to do their jobs.
Let's change that.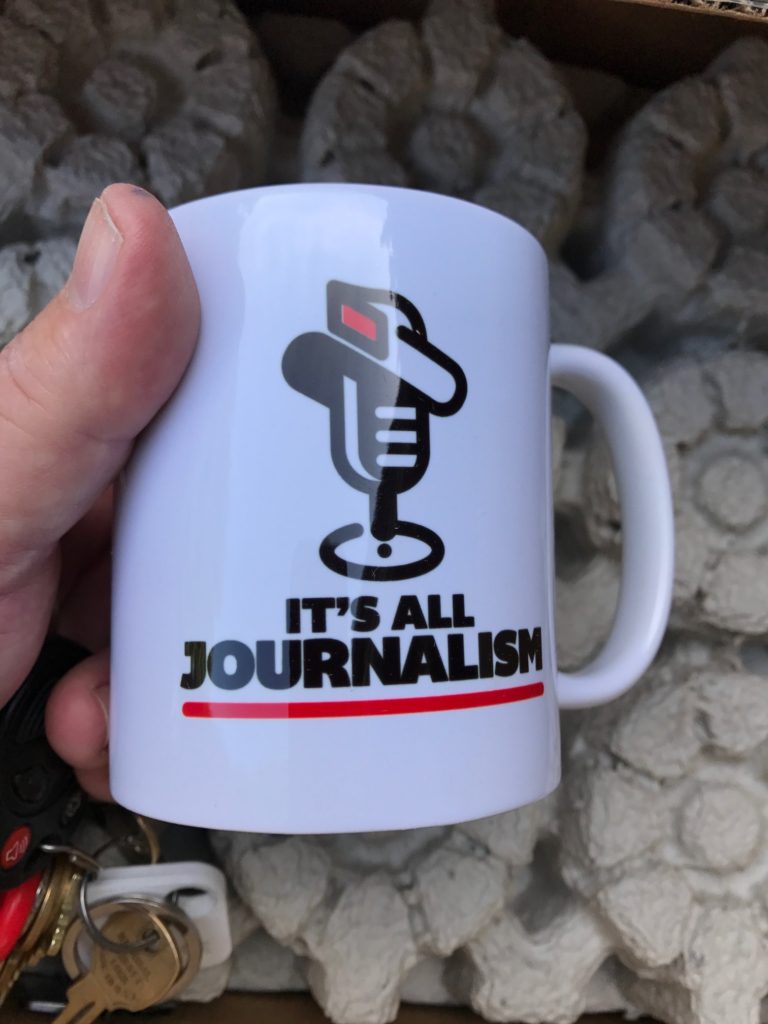 I've created a five-question online surveyto help us assemble a toolbox for journalists that we'll share on our podcast and website. Please take a few minutes to share the tools that help make your job easier.
To those people who complete the survey, we'll be sending out a limited number of It's All Journalism coffee mugs while supplies last. Show your support for good journalism by taking the survey and get a reward in return.
Create your own user feedback survey