Steve Buttry, longtime educator, journalist and friend of our podcast, died of pancreatic cancer on Feb. 19. He will be missed by the countless journalists whose careers he touched with his steadfast encouragement and enthusiasm for the future of our industry.
Steve was a really nice guy. He was funny and modest. Reading his blog, the Buttry Diary, you'd also discover he was a serious, committed thinker. He always asked big questions and held journalists accountable for the important work that they do.
He was a big "J" journalist.
We interviewed Steve for the podcast three times over the years, most recently in January when he talked about journalism ethics.
Because I forgot the time difference between D.C. and Louisiana, I called him an hour earlier than expected, waking him from a much-need nap. I apologized profusely, knowing that he was ill, but he said, "No problem" and we had a great conversation.
He'd been blogging about his third fight with cancer, and we did talk about it on the podcast. But not until we'd discussed a recent article he'd published on ethics. I figured if that was such an important enough topic for him to dedicate his attention to while he was so ill, it was worth making it the main focus of the podcast. I think he appreciated the opportunity to have good talk about something he cared so much about.
To honor Steve's memory, we're reposting our first interview with him from the early days of our podcast. We were still figuring things out and he was happy to come into the studio and help three of his former students from American University on their strange side project.
Thanks for everything, Steve.
— Michael O'Connell
This interview below originally ran in two parts on Sept. 13 and 21, 2012.
When you talk about digital-first newsrooms, one of the first names that'll come up is Steve Buttry's.
Buttry is currently the director of community engagement and social media for Digital First Media newsroom at the Journal Register Company, which has daily and weekly newspapers in nearly 1,000 communities in 10 states.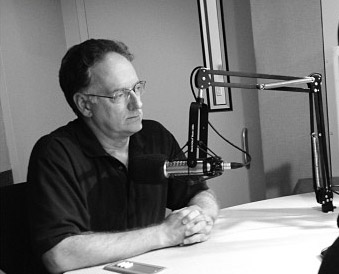 "Clearly there's a demand for a newspaper, but I don't think there's a demand for a company that's focused on newspapers," Buttry said, when asked about the future of journalism. "So we're going to be a company focused on digital, and for the time being we'll put out a newspaper too. That's a complete change in your culture, your workflow, your thinking that we're trying to bring about to our companies."
That process is not without its challenges. Recently, Digital First Media's CEO John Paton announced the Journal Register was filing Chapter 11 bankruptcy with the intent to seek a quick sale.
The announcement triggered a wave of "I-told-you-so's" from digital doubters and concern from new media proponents.
Buttry remains upbeat about the future of Digital First Media.
"It doesn't change the strategy and, in fact, I think we will see, after we come out of bankrupcy, that we're very close to having the sort of operation we need to move forward," he told It's All Journalism. "It's one of those ugly business necessities to get where we need to go."
In response to the haters, Buttry added: "I hope that after we come out of the bankrupcy and have financial success that they'll note that we were right and they were wrong."
Buttry is also the former director of community engagement for TBD.com, a news site covering Washington, D.C. He's been in the news business for about four decades.
He's been a reporter, editor and writing coach for the Des Moines Register, Kansas City Star and Times, Minot Daily News and Omaha World-Herald. In 2010, Editor and Publisher magazine named him Editor of the Year for his work with the Cedar Rapids Gazette.
Buttry also blogs about media issues at The Buttry Diary.